A versatile ballet for everyday... or that comfy go to work shoe. The Mephisto women's Elettra offers style, comfort and versatility. Constructed with form fitting elastic around the top band, you are sure to get a snug form fit hold that stays on. Soft-Air mid-soles keep the dogs from barking and natural rubber out-soles wear like iron.
Fit: Runs true to size.
Elasticized top band for snug fit.
Soft-Air mid-sole with shock absorbing heel.
Natural rubber outer-sole for excellent durability.
Hand made in Europe.
Recraftable: New outer-soles and insoles are replaced with leather
upper being refinished, polished and conditioned.
The Technology
Shock Absorber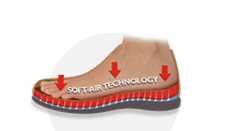 Soft-Air Technology
Comfort Temp