A comfortable and stylish all day boot! Easy on off with the side zipper, the Mephisto Women's Phila is a super light weight boot that is great for city walking, travel and all day comfort. 
Fit: Runs true to size.
Removable memory foam Air Relax insole.
Soft-Air mid-sole with shock absorbing heel.
Natural rubber outer-sole for excellent durability.
Heel Height 1 3/4".
Shaft Height 6".
Hand made in Europe.
Recraftable: New outer-soles and insoles are replaced with leather
upper being refinished, polished and conditioned.
The Technology
Shock Absorber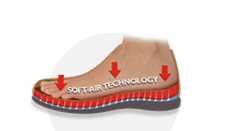 Soft-Air Technology
Removable Footbed
Comfort Temp