Need a comfortable waterproof work shoe? The Mephisto Mila GT offers style, comfort and function. Constructed with form fitting Lycra and Gore-Tex, you're good to go in the rain, sleet or snow. The Mila GT keeps you warm and cozy, while keeping the cold and wet out. 
Fit: Runs true to size.
Removable memory foam Air Relax insole.
Gore-Tex, elasticized Lycra for snug fit.
Soft-Air mid-sole with shock absorbing heel.
Natural rubber outer-sole for excellent durability.
Heel Height 1 3/4"
Hand made in Europe.
Recraftable: New outer-soles and insoles are replaced with leather
upper being refinished, polished and conditioned.
The Technology
Shock Absorber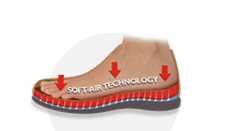 Soft-Air Technology
Removable Footbed
Comfort Temp