Rebeca - 6900/3000 Black
$219.00
Walking shoes are what we do best! Looking for a lighter weight and softer version of our classics? The Mephisto Rebeca is the shoe you're after. This new walker offers soft full-grain leather uppers that adapt to the feet and the memory foam insole provides great cushioning and padding for all day, tireless walking.
Fit: Runs true to size.
Removable Runoff insole, padded tongue and heel collar.
Soft-Air mid-sole with shock absorbing heel.
Natural rubber outer-sole for excellent durability.
Handmade in Europe with double stitched full-grain aniline dyed natural leather.
Recraftable: New outer-soles and insoles are replaced with leather upper being refinished, polished and conditioned.
The Technology
Shock Absorber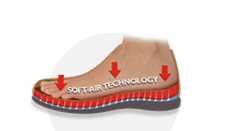 Soft-Air Technology
Removable Footbed
Comfort Temp