A classic versatile slip on for everyday... wear it casual or dress it up. The Mephisto women's Roxana offers style, comfort and versatility. Constructed with form fitting elastic around the side band, you are sure to get a snug form fit hold that stays on. The SOFT-AIR midsole, flexible and soft, reduces the shock from walking to an absolute minimum. This protects your feet, joints and vertebrae, while maintaining proper hygiene. For a comfortable and effortless walk. The ultra light outsole combines extreme suppleness with incomparable lightness and gives excellent shock absorbancy. The assurance of a tireless walk. The leather lining caters for a healthy climate in the shoe.
Fit: Runs true to size.
Elasticized top band for snug fit.
Soft-Air mid-sole with shock absorbing heel.
Natural rubber outer-sole for excellent durability.
Hand made in Europe.
Recraftable: New outer-soles and insoles are replaced with leather
upper being refinished, polished and conditioned.
The Technology
Shock Absorber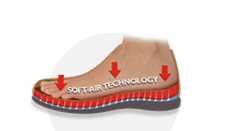 Soft-Air Technology
Comfort Temp