This light sandal for women is made of nubuck leather Easy to put on and comfortable, this sandal will suit all your desires. The SOFT-AIR midsole and the SHOCK-ABSORBER integrated into the outsole, reduce shocks to a minimum for a smooth and fatigue-free walk. Its strap is adjustable thanks to its buckle closure. Its genuine leather lining guarantees a high standard of quality and comfort.
Fit: Runs true to size.
SOFT-AIR technology offers stress free walking comfort.
Dual Velcro straps offering optimal fit.
Nubuck upper and leather lined straps offer friction free walking.
Natural rubber outer-soles offer shock absorbency, flexibility and supreme durability.
Recraftable: New outer-soles and insoles are replaced with leather uppers being refinished, polished and conditioned.
The Technology
Shock Absorber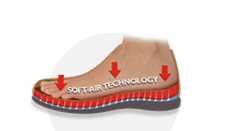 Soft-Air Technology