From the Air-Jet Range of shoes by Mephisto - the breathable nature of this exclusive midsole also enhances air circulation to ensure a healthier environment for your feet.
Features 3 eyelet lace up.
Sole with notched profile to avoid slipping with SHOCK ABSORBER.
Leather uppers
Removable insoles
100% rubber soles
Made in France
Midsole with SOFT AIR TECHNOLOGY - minimizes the shock from walking, offering protection to your feet, relief for your joints, and proper care of your back.
The Technology
Shock Absorber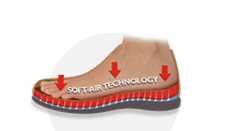 Soft-Air Technology
Removable Footbed
Comfort Temp