Marlon - Black Pebble Grain 9100N
$429.00
Looking for that durable, hard wearing work shoe? The Mephisto Marlon is a workhorse. It's not uncommon for these shoes to see 25 years of service. Constructed using a Goodyear Welt, these shoes are designed to be resoled again and again. Full grain leather uppers wear like iron while the calfskin liners wrap your feet like a glove. Soft-Air mid-soles provide great support and excellent cushion. Our natural rubber outer-soles will provide superior wear to any man-made sole. It's no wonder the Mephisto Marlon has been a Best Seller for many years.
Fit: Runs a half size large.
Goodyear Welt, Air Relax insole, padded tongue, calfskin lined.
Soft-Air mid-sole with shock absorbing heel.
Natural rubber outer-sole for excellent durability.
Handmade in Europe with double stitched full-grain aniline dyed natural leather.
Recraftable: New outer-soles and insoles are replaced with leather upper being refinished, polished and conditioned.
The Technology
Shock Absorber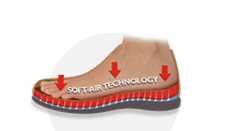 Soft-Air Technology
Comfort Temp