Our classic fisherman's sandal. The Mephisto Sam is a Best Seller and a fantastic travel sandal. Worn barefoot with shorts or with slacks, the Sam is built on our Soft-Air natural latex mid-sole and designed to withstand hours of walking. With a cult like following for this sandal, our customers come back to it again and again. Heading to a warm climate? This is the only item you will need.
Fit: Runs a size large.
Calfskin liners, sueded Air Relax top liner.
Soft-Air mid-sole with shock absorbing heel.
Rubber outer-sole for excellent durability.
Handmade in Europe with double stitched full-grain aniline dyed natural leather.
Recraftable: New outer-soles and insoles are replaced with leather upper being refinished, polished and conditioned.
The Technology
Shock Absorber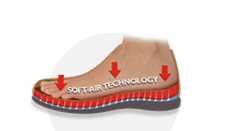 Soft-Air Technology