Our Best Selling walking sandal. The Mephisto Shark is a Tried and True customer favorite. With tucked and rolled neoprene, there are no sharp edges to rub and blister. Two adjustable Velcro strap ensure proper fit for a variety of feet. The quick release buckle allows easy on and off, while the cork and latex foot-bed provide great arch support and mold to the pressure points of the foot. Add an air bag shock absorber at the heel and Soft-Air mid sole, you will understand why this sandal compares to none. The perfect travel walking sandal for a hot climate... you will ask yourself... "Why didn't I buy these earlier?".
Fit: Runs a size large.
Natural cork and latex mid-sole, neoprene lined for padding.
Soft-Air and sueded Air Relax top liner for cushion and moisture control.
Air-Bag shock absorber system.
Rubber outer-sole for excellent durability.
Handmade in Europe with double stitched full-grain aniline dyed natural leather.
Recraftable: New outer-soles and insoles are replaced with leather upper being refinished, polished and conditioned.
The Technology
Shock Absorber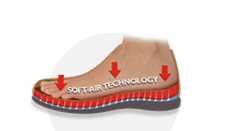 Soft-Air Technology