Vito versatile, pleasantly comfortable sneaker accompanies you everywhere, whether in the city, on walks in the park or at the theatre. The SHOCK-ABSORBER in the outsole, combined with the removable insole that incorporates SOFT-AIR Technology, help to reduce shocks to a minimum for a smooth, fatigue-free walk. This lace-up shoe offers optimal comfort and excellent fit. The textile-leather lining guarantees an optimal fit and perfect support for the instep and Achilles heel. This white men's model is made of suede leather over the entire foot with smooth leather and smooth grained leather inserts.
Fit: Runs a half size large.
Goodyear Welt, Air Relax insole, padded tongue, calfskin lined.
Soft-Air mid-sole with shock absorbing heel.
Light natural rubber outer-sole for excellent durability.
Handmade in Europe with double stitched full-grain aniline dyed natural leather.
Recraftable: New outer-soles and insoles are replaced with leather upper being refinished, polished and conditioned.
The Technology
Shock Absorber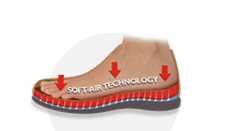 Soft-Air Technology
Removable Footbed
Comfort Temp