Yael - Blue Peacock 690L
$259.00
Perfect for travel or on the go everyday. The Mephisto Yael Blue Peacock provides an updated look to the modern walking shoe. Super light weight, the Yael is constructed with full grain leathers and calfskin liners for humidity control and durability. The removable Air Jet innersoles keep feet cool and dry. Add Soft-Air mid-soles and super light outer-soles and you have the comfortable all-day-walker you've been looking for.
Fit: Runs true to size.
Removable Runoff insole, padded tongue and heel collar.
Soft-Air mid-sole with shock absorbing heel.
Natural rubber outer-sole for excellent durability.
Handmade in Europe with double stitched full-grain aniline dyed natural leather.
Recraftable: New outer-soles and insoles are replaced with leather upper being refinished, polished and conditioned.
The Technology
Shock Absorber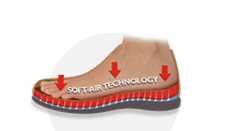 Soft-Air Technology
Removable Footbed
Comfort Temp